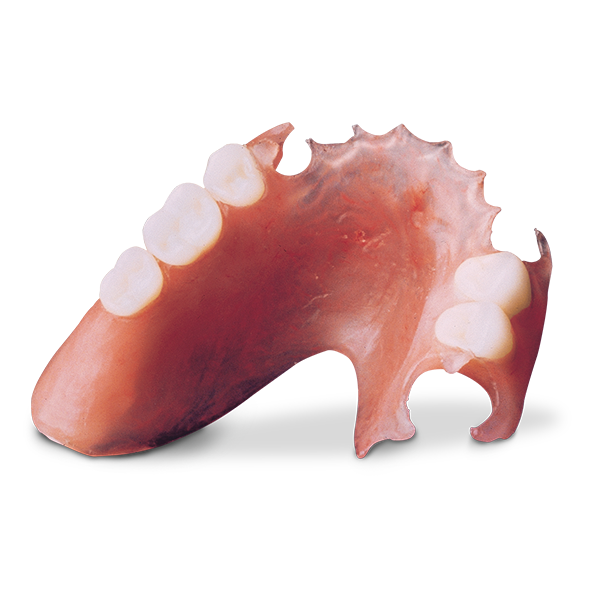 Flexible Partials
For partially edentulous patients demanding a more comfortable, lightweight restorative solution, ADL offers a host of fantastic state-of-the-art flexible materials. If you are unfamiliar with any of our options, call our lab so we can help you prescribe the perfect flexible partial solution for your patient.
Valplast®
Valplast makes a better and stronger flexible partial denture faster than ever before. The flexible nature of Valplast is perfectly suited to the variety of natural conditions in the mouth, simplifying design and enabling the flexible nylon resin to act as a built-in stress breaker. This provides superior function and stress distribution in a removable partial denture.
Visiclear™
Made with state-of-the-art thermoplastic materials, this incredibly lightweight flexible partial is an ideal restorative option. It features excellent metal-free esthetics and is extremely comfortable. The durability and stain-resistance of VisiClear™ partials will deliver long-term smiles to your patients.
Duraflex™
The most common complaint about flexible partials is that they are difficult to adjust. DuraFlex Flexible Partials resolve that issue. Made with a state-of-the-art thermoplastic material, adjusting DuraFlex won't gum up your tools like other flexible partials. The result is a partial that is easier to adjust, easier to polish and has better color stability.